We identified a need to focus on offering opportunities for teenage girls to get back into a learning environment. To attract teenage girls to our educational centre, we designed a programme that would give them an opportunity to engage with an entrepreneurial activity and further education at the same time.
The programme focused on the production of fresh food at home as a start up activity to sell it locally – based on traditional Syrian recipes as well as the pasteurisation process yogurt and cheese making. Our girls were taught how to make an economic profit by selling products and costing ingredients, including budgeting for extra gas, electricity and water costs. They learnt how to preserve the quality of the food produced, while exploring cheaper options and ways of contributing to limited family budgets.
We and our girls are very grateful to AVIS for enabling us to run this summer programme through their support.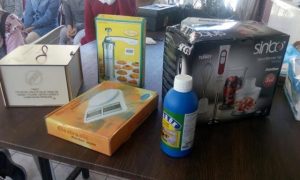 "I really enjoy coming to the centre, I have made many new friends and discovered how easy it is to make yogurt and cheese. We get to take the food we make home and try out new recipes"
 "At the end of the course we were given cooking equipment so we can continue to cook its really helpful as now I am beginning to sell cheese in my neighbourhood."
"I really enjoy coming to the centre. Now I want to improve my reading skills and have already registered with the main programme"
[maxbutton id="1″ ]