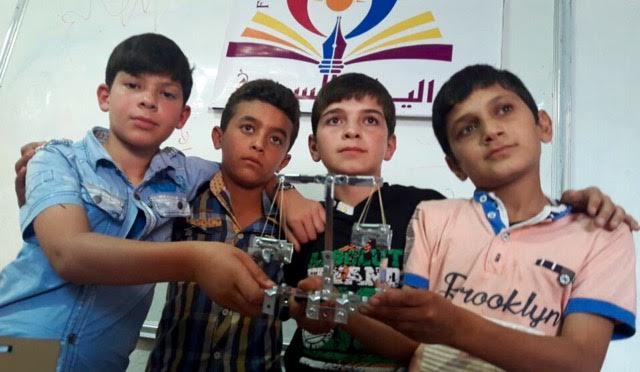 Over the last four months, local refugee staff at our centre in Antakya have been looking for ways to outreach other teachers inside Syria. We are now thrilled to announce the success of their wonderful initiative.
Our local refugee staff have designed a teacher online training programme and a fifty-two page curriculum manual, which include training on methodology and outlines lesson plans.
The programme has just being launched and is already training four teachers inside Syria. These teachers started implementing the programme on 14 October in their respective centers: one in Idlib city, two in rural Idlib and one in the outskirts of Aleppo.
We supported the initiative by delivering 100 meccano resource packs – part of the educational equipment for the children attending the programme – to those four centres inside Syria.
The resource packs were designed and produced in our centre in Antakya.
"This is a very exciting development, with the right support this has the potential to really snowball: it's capacity building on the ground, it's top quality education and its happening now….Huge thanks to our staff in Antakya who have worked tirelessly to make this happen…." Maria Chambers – Projects Coordinator, Firefly International.
We are very grateful to the four teachers for sending us a few pictures from their centers.
The quality of the pictures suffers from being taken from mobile phones (the only means at their disposal), but their value is inestimable.
The cost to produce and send to destination an educational resource pack is about £15. This is a very small price for all the educational benefits and happiness that this excellent educational tool can give to those children. Please, help us making them smile and rebuild their lives in Syria.
[maxbutton id="1″ ]