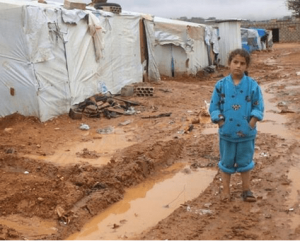 Update from North Syria Camps – Maria chambers Project Coordinator Firefly International
The general situation
There is no space in Khirbet Al Jouz camp, where Firefly for Syrians supports two schools. During the past month there have been families on the move trying to find safety as the bombings continue in North Syria. The camp did expand in the late summer providing tented accommodation for 100 more families. The camp is now at full capacity.
The daily pressures of the cost of food and living preoccupies everyone. The priority for families living in these camps is planning how to survive the cold this winter.

Conversations with our Syrian coordinator revealed:

"On average every tent needs two and a half tonnes of wood to keep warm and to cook in the winter months. Last year a ton of wood cost US$50 – 70. This year it is US$100.  For my family I need to heat two tents at an expected cost of US$500. The situation is very serious." In this context surviving the cold is more of a threat than Covid. Since 2011 Syrian children living in tents die of cold in the winter months.
Schools are open in North Syria: all our students are coming to our primary school. Every pupil has been issued with cotton washable masks and staff and pupils are rigidly adhering to social distancing rules.

Our classrooms are cleaned daily and whilst there are no officially reported cases in Khirbet Al Jouz, our North Syria coordinator reports a few cases in the camp.
Continuing our work here is vital: please support our team by donating generously at this especially challenging time. Warm, disinfected, safe learning spaces this winter are our priority for children in these displaced communities
Figures from ACU (one of our partners in 2019)
---