Art4Space UK, Svitac (Firefly) and Firefly International came together in 2013 to create a mosaic logo for the Youth Centre. Thanks to Firefly International, they have been able to come together to create another work of art.
The project, initially funded by the Edith M Ellis Trust, was matched in funds by Svitac's (Firefly) own local volunteer IvanamKnežić on her own fundraising trip to Germany.
To start the process, Julie Norburn (Art4Space- London UK) worked closely with Ivana for four days on a mosaic project as a part of the Summer Camp. To kick-start the project, Ivana received training in how to design mosaics, cut and place the files, grouting and completion. She will now be able to take these skills and teach them with others within the Brčko community.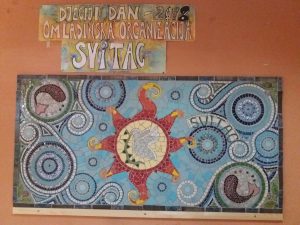 After the training, Julie and Ivana organised a workshop for the children and young people to teach them the basics of mosaic art before, moving on to actually create the piece. Everyone enjoyed working together and the project was a huge success despite the limited time to create it. The finished piece symbolises tolerance and peacebuilding and demonstrates how art has the ability to bring people together. The mosaic depicts a peace dove with a sun shining around it to represent the peacebuilding mission of Svitac (Firefly) as well as a variety of symbols of Brčko, including the river Sava andcatfish. Created using recycled and broken tiles along with glass beads Julie bought with her from London, the mosaic was even environmentally friendly.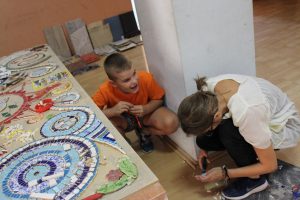 We hope that the mosaic will be enjoyed for many years to come and will continue to symbolise peace through self-expression and culture.